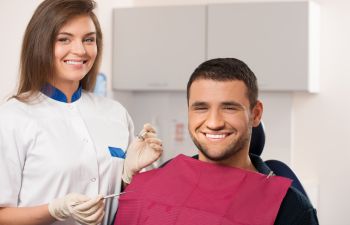 If you're planning to get braces, one of the things we'll recommend during the course of your orthodontic therapy is using fluoride each day. But not all fluoride is the same. Some comes in toothpaste, others in rinses, and then there are the concentrated gels we prescribe.
Using a prescription fluoride while you're in braces can help to:
Reduce your chances of getting cavities.
Fluoride is important for strong teeth and bones, the same way your body needs calcium. When your smile gets the right amount of fluoride it needs, you're less prone to tooth decay. You'll want it when you have extra appliances to clean around!
Avoid demineralization ("white spots") on your teeth.
White spots are caused by plaque sitting on your enamel for too long. The physical demineralization process is the first stage of decay and is what causes the white spots on your teeth. By placing fluoride back into your tooth, you can reverse tooth demineralization. That way you'll be less likely to see splotchy areas once your braces are removed.
Protect your smile if your oral hygiene isn't great.
Good brushing and flossing is important, but if you miss a place here or there it will mean too much contact time of plaque on your teeth. Using fluoride will help strengthen the enamel in those spaces so that your oral health is preserved.
Which Fluoride is Best for Me?
Dr. Kincer will recommend an appropriate fluoride product based on your age, oral hygiene habits, past risk factors, and type of braces you're getting. Contact us today to reserve you or your child's orthodontic exam!