Invisalign for Adults
While a straight and balanced smile is important at every stage of life, many patients are reluctant to wear braces once they reach adulthood. Whether you are getting ready to say "I do" or trying to climb the corporate ladder, wearing metal brackets and wires may not be appealing or suitable for your stage of life. However, with Invisalign, adults have the opportunity to attain a straighter, more attractive smile without enduring months or years in braces. Invisalign is a proven orthodontic treatment that uses clear, removable aligners to gently move your teeth into proper position over time. With this innovative system, adults can smile confidently during their orthodontic treatment.
Invisalign treatment relies on a series of customized aligners that are changed out every 1-2 weeks until your smile goals are complete. The aligners are made of clear, smooth plastic for optimal comfort and discretion. Adults can even remove the aligners for eating, drinking and flossing. The aligners are crafted using advanced 3D computer imaging technology so that the teeth gradually move into ideal alignment with each set. Treatment time varies on a case by case basis but is considered comparable or faster than traditional braces. Invisalign is effective for correcting a variety of orthodontic concerns, including crowding, overbite, underbite, gaps and more.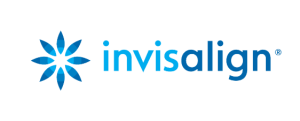 Benefits of Clear Aligners
Invisalign gives adults the remarkable advantage of gaining a straighter and more confident smile without disrupting their lifestyle. Adults appreciate the fact that the clear aligners are virtually invisible to others, allowing them to pursue their career or relationships without the social drawbacks of traditional braces. In addition, office visits are only required every 6 to 8 weeks, which is much less frequent than other orthodontic treatment options.
The fact that the clear aligners are removable offers even more benefits for adults. Patients gain valued freedom to eat the foods they love as well as enjoy special events without the aligners if they choose. Furthermore, oral hygiene can be better maintained during Invisalign, as there are no brackets or bands to work around when cleaning your teeth. This means a straighter smile and healthier smile once your Invisalign treatment process is complete.
To learn more about Invisalign for adults, please contact us today and schedule an appointment with Dr. Kincer at our Marietta office. As a leading Invisalign provider, Dr. Kincer is equipped to help you reach your smile goals with this revolutionary clear aligner technology.