Invisalign vs Braces
When compared to traditional braces, the advantages of Invisalign are quite significant. At the office of Dr. William R. Kincer, we understand that not every patient is willing or able to spend time in metal braces to attain a straighter smile. Therefore, we are proud to offer Invisalign, a proven orthodontic treatment that solves many of the drawbacks of traditional braces.
Why Choose Invisalign Over Traditional Braces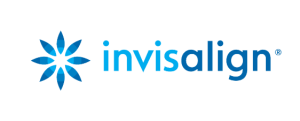 To fully appreciate Invisalign, it is best to directly compare this clear aligner therapy with traditional metal braces. Here are just a handful of reasons why Invisalign may be an ideal choice for you:
Just as effective:

Invisalign is proven effective for a wide variety of orthodontic issues such as crowding, spacing, crossbite, overbite and underbite.

Highly discreet:

The hallmark advantage of Invisalign is its clear design. In fact, it is virtually invisible to others, allowing patients to smile, speak and interact without sacrificing their self-confidence during treatment.

More comfortable:

With Invisalign, patients can avoid the painful irritations from bulky metal brackets and poking wires. Invisalign aligners are made of smooth, flexible plastic that uses gentle increments of force to gradually move the teeth into better position. There's no need to worry about mouth sores or
uncomfortable tightening appointments like you would with braces.

Dietary freedom:

Go ahead and enjoy the foods you love while your smile is straightening. Unlike traditional braces, Invisalign doesn't involve a long list of foods to avoid during treatment.

Better smile health:

The ability to remove the aligners offers another significant benefit towards your oral health. Without the obstacle of brackets, bands and wires, you'll be able to keep your teeth and gums cleaner during treatment. This means you can escape the common dental health concerns of braces wearers, such as plaque build-up, puffy gums and tooth discoloration.

Fewer office visits:

As an Invisalign patient, we will supply you with a series of aligners that need to be changed out every 1-2 weeks. However, we only need to see you here in the office about once every six to eight weeks. For the average busy adult or active teen, this is a welcome relief of convenience.

Faster Results:

Treatment length varies from patient to patient. However, average treatment time is between 9 and 15 months. For many, this can be faster than traditional braces. Dr. Kincer can give you a more accurate estimate of your treatment length at your first evaluation.
Still trying to weigh the pros and cons of Invisalign versus braces? Let us help. We offer a wide variety of orthodontic services at our West Cobb practice, and we value the importance of helping each patient find a treatment option that is right for their unique needs and preferences. Contact the office of Dr. William R. Kincer today.