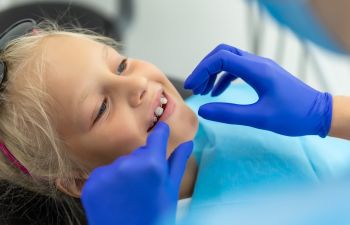 Phase 1, or early interceptive treatment, is a type of orthodontic treatment performed on children between the ages of 6-10. During this timeframe, children begin to lose baby teeth and adult teeth begin to come in. Treatment at this age has a lot more to do with function and development than anything else. Yes, straightening teeth is still a priority, but Phase 1 treatment is used to set the foundation for a strong, well-functioning bite for your child's future.
Why Phase 1 Treatment?
At this stage, our orthodontist can assess your child for signs of misalignments or malocclusions (incorrect bites). With the right intervention, any issues with your child's bite and jaw growth can be corrected before permanent adult teeth make their way in. This early interceptive approach can help to:
Create room for crowded teeth
Preserve space for teeth yet to erupt
Reduce the need for extractions
Reduce treatment time in braces later on
Phase 1 Appliances
It is not necessary for all children to undergo phase 1 treatment, but if you notice your child has crowding, flared teeth, an overbite or underbite, it is a good idea to plan a consultation to discuss appliances such as:
Special retainers
Headgear
Partial braces on specific teeth
Space maintainers
Functional and expansion appliances
Early interceptive orthodontics is an investment in your child's future. At the office of Dr. William Kincer, we take your child's development seriously. If you're not sure your child's smile needs attention and would like our expert advice, call today to schedule a consultation!