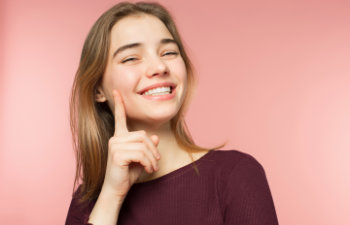 If you or your teen are considering orthodontic treatment, you may be wondering whether traditional braces or Invisalign aligners is best. At William R. Kincer, DMD Orthodontics in Marietta, we offer both traditional braces and Invisalign treatment to meet the unique needs and preferences of each patient. Here are some factors to consider when choosing between the two:
Age of the Patient – Traditional braces are typically recommended for children and any older patients who may struggle to keep up with removable appliances. However, adults can also benefit from traditional braces if they have more severe orthodontic issues. Invisalign aligners are generally recommended for older teens and adults who have mild to moderate orthodontic issues.
Affect on Diet and Oral Hygiene – Traditional braces require special care and dietary restrictions to prevent damage to the braces or wires. Patients must avoid hard, sticky, and chewy foods that can damage the brackets and wires. Oral hygiene is also more time-consuming with traditional braces, as the brackets and wires can trap food particles and make it slightly more challenging to brush and floss effectively. Invisalign aligners, on the other hand, are removable and do not require any dietary restrictions. Patients can brush and floss as they normally would and clean their aligners with a special cleaning solution.
Personal Preferences – Some patients prefer the discreet appearance of Invisalign aligners, while others prefer the more traditional look of metal braces and colorful bands.
Request a Consultation
At William R. Kincer, DMD Orthodontics, we offer comprehensive orthodontics for all ages. During your consultation, we'll help you determine the best orthodontic treatment option for your needs. We'll also be happy to answer any questions that you have. Contact us today!