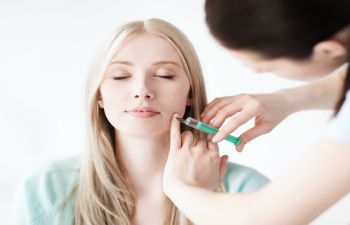 Originally approved by the Food and Drug Administration (FDA) in 2004 as a treatment for lipoatrophy in those living with HIV, Sculptra Aesthetic is now approved (2014) by the FDA for the treatment of wrinkles and folds on the face. The injectable dermal filler, which contains poly-L-lactic acid (PLLA), stimulates the production of collagen over time. As such, Sculptra provides long-lasting and natural-looking results that can last up to two years, as reported by Healthline.
To better understand how Sculptra works, it's important to understand the role of collagen in skin health. Though it is naturally found in the body's organs and tissues, it specifically maintains firmness and elasticity in the skin. In fact, nearly 80% of the skin's underlying layer is collagen. Thus, when collagen production is lacking (a natural part of aging), individuals notice more wrinkling of their skin. As a result, many turn to topical creams containing collagen. However, while collagen creams can moisturize skin, they do not provide the anti-aging benefits that most individuals want in regards to fine lines, wrinkles and sagging skin. This is because the molecular weight of collagen is too great to pass through the skin's epidermis. With this in mind, collagen supplements also fall short in facilitating the production of collagen, especially after being broken down by the digestive system.
Fortunately, Sculptra is different, as it works within the body at a deeper level of the dermis to restore the structure and matrix of the skin. As the PLLA micro-particles are absorbed, collagen production increases and collagen strands are rebuilt. Facial volume increases, creating fullness that diminishes fine lines and wrinkles. Depending on the amount of collagen that has been lost, a series of Sculptra treatments are provided over a period of a few weeks or months.
Slow and Steady Results For Marionette (Smile) Lines and Wrinkles Around The Mouth and Chin
Sculptra Aesthetic provides slow and steady results over time, strengthening the integrity of skin. Thus, if the marionette lines and wrinkles around your mouth, nose and chin are bringing you down, call the med spa of William R. Kincer, D.M.D., P.C. today to reclaim your youthful complexion with the innovative collagen treatment found in Sculptra.