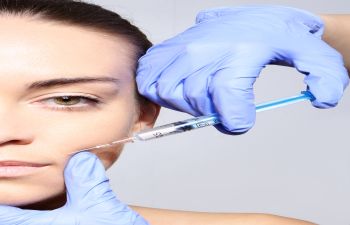 For moderate to severe facial wrinkles, including nasolabial folds, RADIESSE is an FDA-approved dermal filler that produces immediate results with long lasting benefits. Thus, when RADIESSE is delivered through a small needle placed directly beneath the skin's surface, it adds volume right away, causing lines to smooth and soften. Yet, because it signals the body's own production of collagen, fine lines and wrinkles continue to diminish for up to one year. Not only does this elicit natural results in anti-aging, it contributes to the refreshed appearance that patients love.

Contrary to other dermal fillers containing hyaluronic acid (Juvederm, Restylane and Perlane), RADIESSE is comprised of calcium hydroxyapatite, which is a mineral naturally found in human bones. The calcium-based element is suspended in a water-based gel, and this solution stimulates collagen protein production to promote the strength and elasticity of skin. As such, RADIESSE is used on the cheeks, lines around the mouth or lips, pre-jowl folds, chin wrinkles and even on the backs of hands. Over time, the body absorbs the calcium and gel mixture.
Is RADIESSE Right For Me?
As noted by Healthline, individuals with the following conditions should avoid treatment with RADIESSE:
Those with severe allergies resulting in anaphylaxis
Those with multiple severe allergies
Those with an allergy to lidocaine or similar medications
Those with a bleeding disorder
Those who are pregnant or breastfeeding
Dr. William R. Kincer D.M.D., P.C. – Trusted RADIESSE Provider
When it comes to dermal fillers of any kind, it is imperative to choose your provider carefully. As an orthodontist specialist, Dr. William R. Kincer has served Marietta and West Cobb areas for over 30 years. With intricate knowledge of facial structures and tissues, Dr. Kincer is now a trusted provider of RADIESSE, with impeccable precision and skill in anti-aging injectables.
To inquire about RADIESSE or other facial artistry services at the med spa of Dr. William R. Kincer, call today.