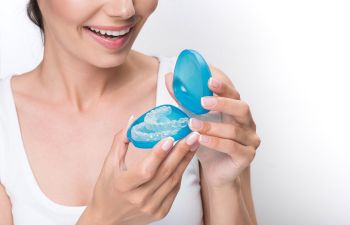 Arguably the most difficult phase of orthodontic treatment, retention is the final step designed to maintain teeth in their corrected position, and most often includes the use of a retainer to prevent teeth from moving into their pre-treatment position. Because teeth are always responding to forces, there are complexities regarding orthodontic retention, as it hinges upon the dynamics of teeth and facial muscles, as well as the tongue, lips and cheeks.
The primary aim of orthodontic retention is to stabilize the teeth as corrected, while minimizing unwanted dental movements. To do so, orthodontic specialists often recommend wearing a retainer for 22 hours each day for at least six months, depending on the patient's malocclusion, the results obtained and the perceived potential for relapse. After six months, a majority of patients transition to wearing their retainer at nighttime only. Yet, when it comes to controlling the tooth's movements, there is not a cookie-cutter approach. In fact, some orthodontists advocate for lifetime retention. Why? In short, it is difficult to predict how teeth with react over time. Moreover, this is further complicated by the eruption of wisdom teeth and other forms of "jaw remodeling" that occur naturally with age. In turn, other factors such as periodontal gum disease, bruxism and injury can change the positioning of teeth.
The Right Retainer For You
Variations of dental and orthodontic appliances exist, yet only an orthodontic specialist can determine which is the right retainer for you. In many cases, patients will wear a top retainer that is removable, while the bottom retainer is a fixed type consisting of a stabilizing wire placed on the inside of teeth (tongue side). This is because lower anterior teeth are more likely to move following treatment. Additionally, orthodontists can make adjustments to bottom retainers to better suit patients. For example, if a previous misalignment included a bottom tooth rotation, the wire can be bonded to the tooth to ensure that it will not rotate during the retention phase.
Orthodontic Specialist – Dr. William R. Kincer
As a trusted orthodontic specialist serving West Cobb and Marietta communities for over 30 years, Dr. William R. Kincer welcomes you to his family-friendly practice, where you'll discover customized orthodontic solutions to improve your smile. Call today to schedule your complimentary consultation.