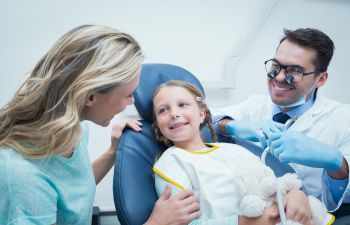 Will your child need braces in the coming year or so? An orthodontic evaluation is a simple, straightforward way to find out whether your child's smile is developing appropriate.
During an orthodontic screening, we check the growth of the jaws, bite alignment, and assess adult teeth that are still developing or erupting. Orthodontic and dental experts recommend that all children have an orthodontic evaluation by the time they're about 7 years old. Why? Because they have a healthy mixture of primary (baby) and permanent (adult) teeth, giving providers a preview of what's to come.
William R. Kincer – Orthodontist can fit your family in for a complimentary evaluation over the holidays, making it simpler for you to get the answers you need without interfering with your normal schedule. But it's important to call now, as the remaining available appointment slots will fill up quickly.
Your consultation will include a one-on-one with our orthodontist, series of photographs, and a possible X-ray of the teeth and jaws (allowing us to see into your child's anatomy.) We'll be able to answer any questions you may have and can even check on what insurance benefits may be available under your plan.
Should your child need treatment, we'll work up a complimentary care plan that includes your estimated coverage, monthly financing options, and the overall timeframe you can expect. That way you can review all of the information over the holiday break with your family and have plenty of time to set up FSA or HSA if you want to do that too. Prefer to get started before the holidays are over? We can fit you in no problem.
Call William R. Kincer – Orthodontist today to request an appointment.