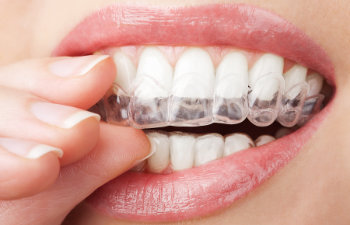 Thanks to Invisalign, achieving a healthy, straight smile as an adult has never been easier. Dr. William R. Kincer, your trusted orthodontist in Marietta, GA, offers comprehensive Invisalign (clear aligner orthodontics) for adults of all ages. In fact, Invisalign was originally developed for adults.
The Beauty of Invisalign: More than Meets the Eye
Beginning orthodontic treatment as an adult can seem intimidating, especially when it comes to traditional braces. But there's great news. Invisalign offers a discreet and comfortable alternative to straighten your teeth without brackets and wires. These virtually invisible aligners are custom-made to fit snugly over your teeth, gently shifting them into proper alignment. The best part? They're removable, so you can keep up with your regular oral hygiene routine and eat all of your favorite foods without braces getting in the way. And if you have a big meeting planned, you can simply slip your aligners off if you're worried about them getting in the way.
The Invisalign Experience at William R. Kincer Orthodontics
Dr. William R. Kincer, renowned for his expertise and commitment to patient care, is your partner in achieving the smile you've always deserved. With a personalized approach, Dr. Kincer will digitally plan a tailored Invisalign treatment plan that addresses your unique dental needs. Through a series of digitally printed clear aligners, your teeth will gradually transform, and you'll start noticing the difference in as little as a few months.
Schedule Your Invisalign Consultation Today
Embarking on your journey towards a straighter, more confident smile is just a click away. Schedule your consultation with Dr. William R. Kincer now for budget-friendly Invisalign treatment in Marietta.