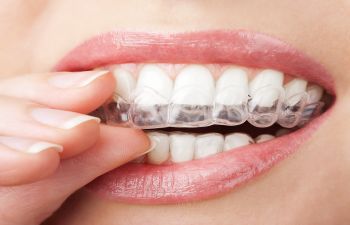 In the arena of orthodontics, treatment is about more than obtaining a straighter smile. It's about correcting bite issues and promoting better function. Yet, there are variations in treatment, some requiring simple fixes and others requiring several phases of treatment. Therefore, when considering Invisalign and traditional metal braces, it's not about personal preference. Rather, it's about which method will help move teeth into their ideal position, as determined by an experienced orthodontist.
Dentistry IQ explains that dental braces can correct even the most complicated issues in aligning the teeth, such as closing gaps and correcting crooked teeth. With metal brackets that run along a wire, each is fixed against the face of a tooth. Contrary to Invisalign, braces are not removable. They are incredibly functional, and work effectively for fixing complex issues. Braces also work faster than Invisalign, which is good news for those with malocclusion and other difficult bite concerns. As such, these individuals can practice better oral health during treatment as teeth move into a healthier position.
On the other hand, Invisalign offers patients with mild to moderate orthodontic concerns a chance to obtain a straight smile with aligners that are virtually invisible. This is especially appealing for teens and adults that secretly want to undergo orthodontic treatment, but do not want to feel uncomfortable while out with friends or at work. Though the number of treatable cases with Invisalign is expanding, the clear aligner system works best for simple corrections and aesthetic purposes.
We'll Help You Meet Your Orthodontic Goals In The Most Comfortable and Efficient Way Possible
At the office of Dr. William R. Kincer, we are equipped to treat a wide range of orthodontic problems in children, teens and adults. As such, we tailor treatment to suit each individual case, as we understand that no two cases are alike. At the same time, we remain conservative in our approach, developing a strategic treatment plan that will help patients meet their orthodontic goals in the most comfortable and efficient way possible.
To meet with Dr. Kincer, call his office on Dallas Hwy in Marietta today!