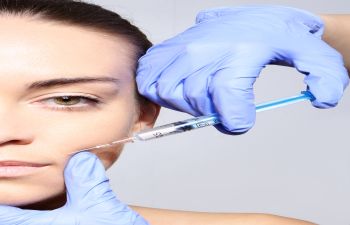 Are you an adult who is undergoing braces?  When you're done with your treatment, you'll have a more attractive smile that you'll want to show off. But if you suffer from smile lines (fine lines and wrinkles around your mouth), you can eliminate them and get a full makeover with convenient Botox or dermal fillers right here in our Marietta, Georgia orthodontist practice!
Botox For Wrinkles
Botox is an injectable medication that blocks signals from your facial nerves to the muscles.  This relaxes and softens the wrinkles that are caused by repeated facial movements.
Getting Botox is quick and easy. Initially following the administration of this medication, you may experience some mild swelling in the injection sites. Once it subsides after a few days, you'll get to enjoy the results of Botox for about three months, at which point you'll want to get the application repeated if you were happy with the treatment.
Smooth Lines with Injectable Fillers
Our office uses Volbella and Vollure XC, which are FDA approved hyaluronic acid fillers. Hyaluronic acid is a substance that the body produces naturally but is lost with age.
Facial fillers are injected in the skin like Botox.  Rather than freezing muscles, dermal fillers actually fill in sunken in areas (wrinkles). This treatment will give you immediate results but like Botox is only temporary.
Get the Full Look
The next time that you're in our Marietta, Georgia office for an adult orthodontic check-up, feel free to ask us about Botox, dermal fillers, or one of our other medical spa treatments. Dr. William R. Kincer will assess your condition and listen to your expectations to determine which procedure is right for you!