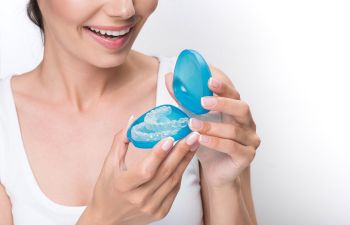 "Relapse" is a condition where your teeth drift back out of alignment after your orthodontic therapy is completed. Orthodontic relapse will naturally occur over time unless steps are taken to prevent it.
Essentially, the muscles of your lips, tongue, and chewing/swallowing patterns can cause your teeth to drift. There are also tiny ligaments surrounding each tooth root that have a "memory" of their own, making them want to move back to where they came from. But with proper strategies, you can keep teeth straight after completing orthodontic treatment.
Always Wear Your Retainer
Retainers are removable orthodontic devices made to "retain" your teeth's current position. They can even apply a small amount of pressure if your tooth has shifted a fraction of a millimeter out of alignment. But in order for them to work properly and keep your smile straight, orthodontic retainers need to be worn as prescribed. Depending on how long you've had your braces off, that might be every night or just a couple of nights a week.
Fixed Retainers
Bonded or fixed retainers are permanent appliances attached to the back of your teeth, out of plain view. These retainers are needed when teeth are especially prone to relapse, such as the lower front teeth or when there is a large gap between upper front teeth. If your fixed retainer ever comes unbounded, be sure to have it repaired as quickly as possible.
Orthodontic Retainers in Marietta
Our Marietta orthodontist includes custom retainers with each orthodontic treatment. But even if you're new to the area and need to replace your retainer, we may be able to assist you. Contact our office today for an appointment with Dr. Kincer.