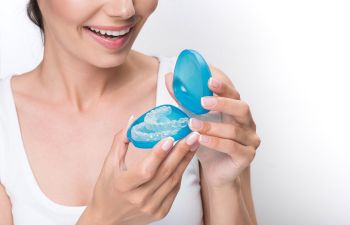 After undergoing our Marietta, Ga Invisalign treatment to straighten your teeth and fix your bite, you'll need to wear a retainer.  Doing so will help ensure that your teeth don't shift back resulting in a relapse, which means that you need to go through Invisalign again. Our Vivera retainer is a clear plastic tray that looks just like your Invisalign aligners.
Wearing Your Retainer
To begin with, after your Invisalign treatment is over, you may be instructed to wear your retainer all the time.  After a while you should be able to transition to only wearing the trays while you sleep. Long term users can still benefit from straight teeth by inserting their retainer a few nights a week.
Avoid Relapse With a Vivera Retainer
One of the great things about Vivera retainers is that they're actually capable of moving your teeth back into place if they have begun to shift. But be careful not to overdo it because the movement is limited to .25mm per tooth. It's best to wear your retainer as instructed and not risk having to go through ortho again.
How To Clean Your Vivera Retainer 
Cleaning your Vivera retainer is just as important as it is easy to do. Simply brush the inside and outside of each tray that you normally would your Invisalign aligners.
Before inserting your retainers, make sure that your teeth are clean so that you avoid bacteria getting trapped underneath, causing dental decay.
Vivera Retainers in Marietta
For help with your Vivera retainer, call the office of Dr. William R. Kincer, our Marietta, Georgia orthodontist. We are here for all your ortho needs.