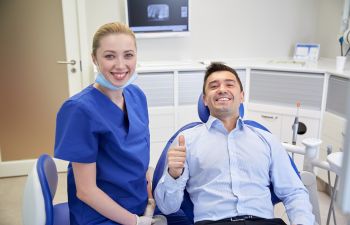 When you have straight teeth, your smile doesn't just look good, but your oral health is better. Our Marietta orthodontist can help you get there!
The following are some of the advantages to having straight teeth that you've probably never considered:
Lower Risk Of Gum Disease
When you have crooked teeth, it can be very difficult to clean around them thoroughly. In fact, they tend to trap more buildup overall, impacting the health of your gums.  Swollen, inflamed, and bleeding gums are a sign of gum disease and are very common in people that don't have straight teeth.

When your teeth are aligned, it makes your oral hygiene routine easier and significantly cuts down the risk of developing gum disease.
Decrease Your Chances of Developing Cavities
Since brushing and flossing are more difficult when you have crooked teeth, and those teeth get more buildup, you're more likely to develop cavities between teeth that are crowded or misaligned.
Investing in orthodontic therapy lowers your chances of getting more cavities in the future.
Take Control of TMJ Disorders
Having a mouth full of teeth that aren't lined up properly puts a lot of stress on your bite, jaw joint, and muscles.  You could easily develop TMJ disorder, which causes jaw pain, grinding, clenching, worn teeth, and headaches.
When your teeth are straight and come together as they should, these stresses are avoided.
Orthodontist in Marietta, Georgia
If you have crooked teeth and are considering orthodontic treatment, don't forget the health benefits as well. Call Dr. William R. Kincer, our trusted Marietta Orthodontist.  We will gladly see you for a consultation to determine the best treatment for you.