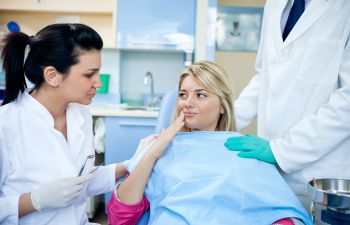 Taking care of your teeth during your orthodontic treatment will ensure you get the results you want after your braces are removed. For the most part all will be well but there may be times orthodontic emergencies arise that are out of your control. In these cases, you will need to schedule an appointment to have it fixed.
What is an Orthodontic Emergency?
If you find that you are experiencing any pain or discomfort outside of the normal soreness from an adjustment, we may need to see you.
Here are 3 examples to help you determine if it's an emergency and how you can handle them.
Broken Bracket – If a bracket is broken or loose, you should have it fixed as soon as possible. If the bracket is still connected to the wire, great, you can leave it there. If it has fallen out, but you still have it, bring it with you to your appointment because we can re-use that bracket if it is in good condition.
Poking Wire – If a small portion of your wire is poking into your cheek, it can be very uncomfortable. You can use orthodontic wax to cover it up, then come in, and we can trim it for you and have you on your way.
Broken Spring or Appliance – If your springs or appliance has come out of your mouth, just like with a bracket, book an appointment as soon as possible to come in and have it re-inserted again.
If you still have any questions about orthodontic treatments, call us at William R. Kincer Orthodontics. We proudly serve families throughout the Marietta, GA area.