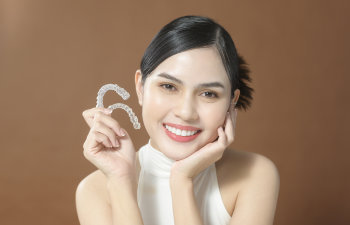 Congratulations on choosing Invisalign in Marietta, GA! One of the biggest benefits of wearing removable, invisible orthodontic trays is how easy they are to care for and keep clean. You won't even have to change your normal brushing or flossing routine!
Daily Cleaning Routine
Maintaining a daily cleaning routine for with Invisalign is essential. After removing the trays, rinse them with lukewarm water to remove food and bacteria. Avoid using hot water, as it can warp the trays. Gently brush the trays using a soft-bristled toothbrush and a non-abrasive toothpaste or antimicrobial soap. Be thorough but gentle to avoid damaging the trays. Rinse them once again and make sure they are completely dry before placing them back in your mouth.
Avoid Harsh Products
While it may be tempting, avoid using toothpaste with colored gels or abrasive agents to clean your Invisalign trays. These can scratch the trays, making them more prone to bacterial buildup and discoloration. Instead, opt for a mild, clear toothpaste or a recommended Invisalign cleaning solution. Harsh chemical cleaners, bleach, or alcohol-based solutions should also be avoided, as they can damage the trays.
Soak for Deep Cleaning
To ensure a thorough clean, consider soaking your Invisalign trays regularly. You can use a commercial denture cleaner or an Invisalign cleaning solution recommended by our Marietta orthodontist. Follow the instructions provided, as different products may require varying soaking times. Remember to rinse the trays thoroughly before placing them back in your mouth.
Schedule Your Visit Today
Properly cleaning your Invisalign trays helps you maintain a good oral hygiene during your orthodontic journey, which is one reason why so many people choose Invisalign. Regular visits with Dr. Kincer will ensure that you receive personalized guidance and care throughout your treatment!