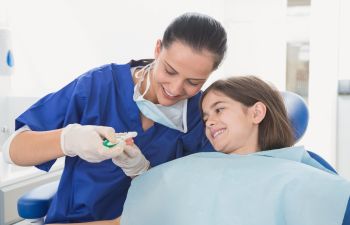 New to wearing braces? Or perhaps you've been in orthodontic appliances for some time, but you're on the hunt for the best way to keep them clean. Here are some great investments to have on hand to ensure you're reaching all of that hard-to-access leftover food and plaque.
Proxy/Proxa Brushes
These tufted brushes are slim and easy to use between your brackets. They're great for brushing the sides of each bracket underneath the orthodontic wire. 
Water Flossers
Water flossers can reach deep between teeth and under gums, flushing out debris when flossing is difficult.
Electric Toothbrushes
Powered toothbrushes basically do the work for you. All you have to do is place them where they need to be, then hold them there for several seconds.
Soft-Bristled Toothbrush
You might be thinking, "a hard or extra-hard toothbrush will clean my teeth better." Actually, it doesn't. Stiff bristles don't flex and bend around curves or appliances; they're more likely to skip them over. Use a soft or extra-soft brush instead.
Regular Dental Checkups
Be sure to schedule regular six-month dental cleanings while you're in braces. In fact, some people prefer to get their teeth cleaned as often as every 3-4 months while they're undergoing orthodontic treatment. Your dental team will have special tools on hand to clean all of those hard-to-reach spaces before serious complications develop. 
Super Floss and Floss Threaders
Thick, tufted floss or a special floss threader makes it possible to weave the strand under wires and around spaces that a brush can't reach. Just because you're in braces doesn't mean you can give up on flossing!
For a personalized oral hygiene routine while you're in braces, contact William R. Kincer – Orthodontist.