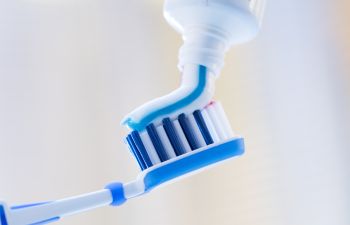 Brushing and flossing, as well as drinking plenty of water and steering clear of acidic, sticky foods and beverages is important, whether one has braces or not. Yet, for those that do, maintaining good oral hygiene is paramount, as brackets and wires create places for plaque and bacteria to hide. Similarly, when plaque is trapped between teeth and along the gum line, gum tissues may appear red and swollen. As plaque and bacteria continue to rest on teeth and gums, individuals are at risk for developing cavities and even permanent stains on their teeth. Fortunately, orthodontists help guide patients in obtaining good oral health with braces, and education is key.
Perhaps you've been told to brush after every meal if you have braces. As a preventative step, this is important to wash away plaque and bacteria before it hardens into tartar. Yet, if you are not able to brush after every meal, drinking water (and rinsing it around in your mouth) is helpful to remove food particles and sticky substances. Even so, if given the opportunity, it's wise to clean between teeth to ensure that plaque doesn't adhere to the surfaces of teeth.
A commitment to regular orthodontic visits and good oral care at home will help patients dodge the following hygiene concerns when they have braces:
Gingivitis: as the preliminary stage of periodontal "gum" disease, Gingivitis typically doesn't cause pain. Yet, individuals may notice bleeding when they brush or floss, as well as puffy, swollen gums. Gingivitis is caused when plaque has invaded gums around teeth and has settled there for too long. To combat red, swollen gums, patients may gently massage gum tissues when they brush (using a soft-bristled toothbrush!). In addition—be sure to floss diligently!
Periodontitis: when Gingivitis has not been treated, the build-up of plaque and bacteria leads to infection of the gum tissues. In some instances, gums may appear to pull away or recede from teeth. This becomes a serious oral health issue, as pockets are formed where more plaque can accumulate.
Decalcification: inconsistencies in brushing with braces might lead to decalcification, or small white spots around the braces. These marks are permanent, but patients can avoid them by brushing carefully twice a day.
William R. Kincer, D.M.D., P.C. places a high value on patient-centered care and personalized orthodontic treatment. At his West Cobb practice, patients are treated like family. This means that Dr. Kincer is uniquely invested in one's treatment, as well as their oral and overall health. If you're looking for a reputable orthodontist, or if you have braces and need help achieving your best oral health, call the office of Dr. William R. Kincer today!