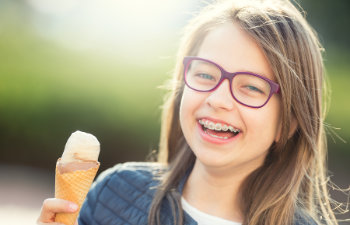 The American Academy of Orthodontics recommends that all children should receive their first orthodontic screening by the age of 7. The reason for this is that by this age, the first permanent molars have usually come in, and a child's bite is becoming established. We can also see where adult teeth are developing and get ahead of any issues like impacted teeth or crowding.
This first orthodontic evaluation allows specialists like William R. Kincer in Marietta to identify any potential problems early and take the necessary steps to prevent them from becoming more serious in the future. Early intervention allows for efficient bite correction before your child requires major orthodontic therapy.
At this young age, orthodontic screenings are not necessarily about straightening teeth but rather checking for any underlying issues that could cause problems down the road. For example, orthodontic concerns such as overcrowding or jaw misalignment can often be corrected more easily if they are detected early and intercepted with growth modification techniques.
Early orthodontic treatment can sometimes mean fewer, less invasive, and less expensive treatments later on. By having your child evaluated by an orthodontist around age 7, you are taking a proactive step to ensure your child has a healthy and beautiful smile for life. Oftentimes, this first evaluation is a short checkup, and we will recommend when their next bite evaluation should take place.
Don't wait! Book your child's first orthodontic screening with Dr. Kincer today. With convenient hours and a friendly and professional staff, you can be sure your child will receive the best orthodontic care possible. You'll be glad you took this important step in ensuring your child's oral health and well-being.