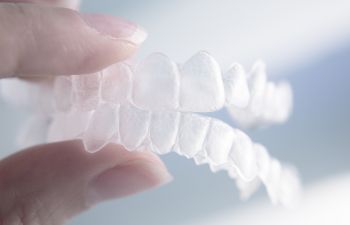 Being that you need to take Invisalign trays out to eat, it can be challenging at first, as a new aligner wearer, to remember to keep up with your clear trays.
Avoid Losing Your Trays
To prevent losing your aligners, William R. Kincer, our orthodontist in Marietta, GA, recommends that you do your best to make a conscious effort to always know where they are. Since most of the time lost trays occur when you're eating out at a restaurant, we suggest making a habit of putting your aligners in their designated container, and in your purse or pocket. Never place your trays in a napkin and set them on the table.
What If I Lose My Trays?
Despite all your efforts not to lose your trays, if you misplace them, you should do the following:
Try in Other Aligners
Depending on what day of wear you were on with the lost trays, you may either fit into your next set of aligners already or feel better in your previous ones. Remember, this is one of the reasons you should always keep your last set of aligners. Whichever ones fit better, wear those because anything is better than nothing.
Come to See The Orthodontist
You'll need to come in for an evaluation with our Marietta, Georgia orthodontist. We'll have to assess your teeth and determine what steps we need to take to get you back on track. We may need to order you another set of trays. Your treatment may be delayed or altered but typically it'll only be by at the most a few weeks. It's important to get in to see us right away, so if this is a situation that you find yourself in give us a call right away.