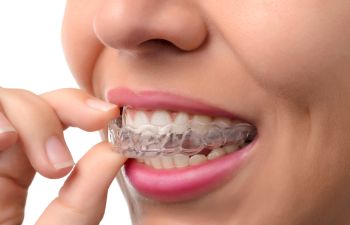 It's no secret that beautiful, straight teeth contribute to a nicer smile while also enhancing one's confidence and self-esteem. Yet, the benefits of orthodontic treatment extend beyond aesthetics, alleviating a number of health conditions and problems associated with the teeth and jaw.
As reported by Colgate, individuals with the following are considered candidates for orthodontic treatment:
Overbite: Often called "buck teeth," an overbite occurs when the upper front teeth are positioned too far forward over the lower teeth.
Underbite: Sometimes compared to a "bulldog" appearance, an underbite occurs when the lower teeth are positioned too far forward, or the upper teeth are too far back.
Crossbite: A crossbite develops when the upper teeth do not come down slightly over the lower teeth when an individual bites down.
Open Bite: An open bite describes the space between the biting surfaces of the front or side teeth when the back teeth bite together.
Misplaced Midline: This is a condition in which the center of the upper front teeth do not properly line up with the center of the lower front teeth when an individual bites down.
Spacing: Spacing refers to any gap or space, whether due to missing teeth or teeth that are improperly sized that do not "fill up" the mouth.
Crowding: When there are too many teeth for the dental ridge to accommodate, crowding occurs.
With the above-mentioned orthodontic concerns in mind, it's important to draw connections between these and other oral and dental health concerns. For instance, when teeth are malpositioned, they are naturally more difficult to clean. Thus, individuals may experience tooth decay, periodontal (gum) disease and perhaps tooth loss. In turn, when there are problems associated with an individual's bite and jaw alignment, they are likely to suffer from chewing difficulties, as well as headaches, facial pain and neck pain from excessive strain placed on teeth and gum tissues.
Welcome To The Office Of William R. Kincer, D.M.D., P.C.
As a leading orthodontic specialist serving Marietta, West Cobb and surrounding communities, Dr. William R. Kincer welcomes your family to his practice today, where you'll experience comprehensive, personalized orthodontic treatment for all ages.