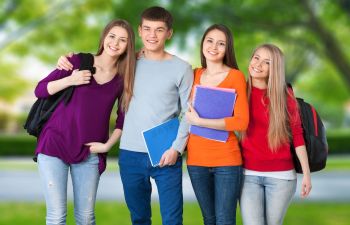 If your teen or middle schooler is about to head back to school in braces, you'll want to make sure they have everything they need to take care of their smile while they're there. Even if in-person learning is delayed for a few weeks, take this time to go through the following tips from Dr. Kincer so that they're ready when classes start:
Bring Extra Bands
Are they wearing elastics during the day? Consider getting a small bag or pill box for them to keep extras in. Some have a small mirror built into them, which makes it easier to put their bands on after lunch.
Carry a Proxy-Brush
These portable, tufted-end brushes make it easy to remove food and plaque buildup between braces and under arch wires. They're a must-have for every orthodontic patient!
Pack a Small Toiletry Bag
Get a travel-sized toothbrush and toothpaste to clean your teeth and braces after meals or snacks. If you get desperate, use a dry toothbrush at your locker. The physical brushing will be helpful, even if you're not at a sink and using toothpaste.
Up Your Water Intake
Water is a natural cleanser. It neutralizes acids and helps keep breath fresh. Encourage your student to keep a refillable water bottle with them throughout the day to stay hydrated, but also lubricate their mouth regularly. Especially if there aren't a lot of water fountains around. Plus, it helps cut out extra sugars from sports drinks or soda.
Having trouble cleaning specific parts of your braces? Be sure to let us know! We'll help you find a simple way to keep your smile clean between visits.