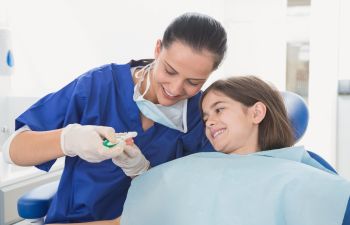 You've been great at keeping your teeth and braces clean all of these months. Now that your orthodontic appliances have been removed, you'll still have a couple things that you need to keep clean: your retainers.
Cleaning your retainers is important because they can get buildup on them too. Plus, you don't want to use anything that could be potentially damaging to the retainer (or your teeth.)
Here are some tips to get started:
Rinse removable retainers regularly.
Even if you're not eating with your retainers in, make sure you're rinsing them (and your mouth) routinely to remove any residual food particles and bacteria. Especially right after taking them out before things harden into place.
Never use harsh or abrasive products.
Do not use hot water or baking soda to clean your retainers, and never use bleach unless specifically directed by your dentist/orthodontist. Doing so could cause permanent damage to your appliance.
Soak your retainer in an approved cleanser.
Effervescent denture cleansers are perfect for cleaning orthodontic retainers too! Soak your appliance in the solution to loosen buildup, then brush it clean and rinse it off.
Floss around fixed retainers.
Always be sure to floss around your bonded retainers at least once a day. Use a floss threader or water flosser to make sure you can reach underneath it and between every tooth. 
Bring them in during dental checkups.
To keep your retainer in tip-top shape, always bring it with you to your routine dental visits. We or your dentist will check it and can help clean problem areas as needed, to help it last even longer.
For more tips, call the office of William R. Kincer today!