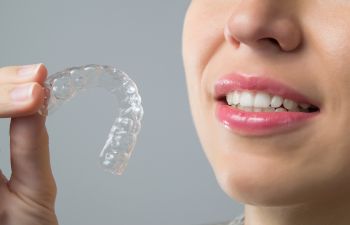 If you're asking yourself the question, "Am I too old for Invisalign?" The answer is no! It is never too late to begin the journey toward a straighter and healthier smile. There are many reasons why orthodontic treatment as an adult has benefits, and at William R. Kincer, D.M.D., P.C., Invisalign is our most commonly requested choice.
Why Invisalign Works for Adults
We would all love to have nice straight teeth. That desire doesn't change with getting older. The thought of getting braces can be off-putting and prevent many adults from achieving the smile they really want. Invisalign provides the opportunity to create the smile you want without the inconvenience of visible braces. The clear aligners make it unnoticeable when you're wearing them. Plus, they can be conveniently removed when needed. It's also a great way to maintain good oral hygiene when you're going through treatment. Easily take them off to brush and floss and then put them right back in.
Invisalign also requires fewer and shorter appointments, allowing you to have treatment without frequent interruptions to your schedule.

Financing is Available
Invisalign is now more affordable than ever. As an adult, you have control of the financial aspect of your treatment, and we will work with you to set up a plan that works best for your preferences. We offer various payment options so that money doesn't stand in the way of the quality care you deserve. If you have private insurance, we can help you determine which orthodontic benefits are available.
If you live in the Marietta area, Dr. Kincer would love to see you to discuss your orthodontic options. Contact our office today to schedule your appointment.