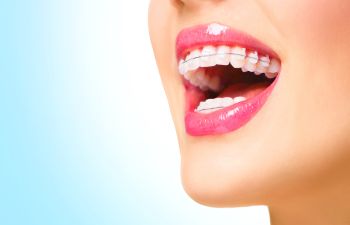 You may be too old to order off the kids menu, or even too old to enter your favorite amusement park with "kids admission" pricing, but trust our Marietta orthodontist when we say you're never too old for braces.
Orthodontics – Moving Teeth At Any Age
Although childhood may be the most common time to get braces, as long as your teeth, gums, and bone are healthy, there is no age limit to moving teeth.
Other Benefits of Getting Braces Later In Life
Braces can do more than just improve the appearance of your smile.
If you've had a tooth pulled in the past, you may have noticed shifting of your other teeth. Perhaps you've observed your teeth leaning and gaps between the others are getting wider. Any mouth with gaps or crowding is hard to clean, and gum health is often impaired. Braces can properly align your teeth, making your oral hygiene routine more efficient so that your mouth is noticeably healthier.
TMJ symptoms like jaw pain, clenching, grinding, and headaches can all be due to an improper bite alignment. A nightguard may help prevent these symptoms, but orthodontic therapy is a permanent solution to the cause of the problem.
Alternative To Traditional Braces
If you don't want to go around with traditional braces, then consider alternatives such as clear or tooth colored braces, lingual braces, or even clear aligner therapy.
Adult Braces in Marietta
You deserve to have a beautiful and functional smile, no matter your age. If you're ready to get started on the path to a healthier smile—or just want to chat about your options—call William R. Kincer, our Marietta, GA orthodontist to schedule a consultation.