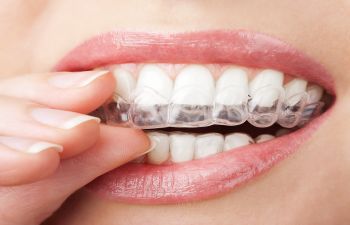 Clear aligner systems like Invisalign offer many advantages over traditional braces, including convenience and ease of care, as well as durability and comfort. If you're curious about this alternative to traditional braces, here are some of the reasons why removable, translucent aligners might be right for you.
Invisible Aligners are Clear and Discreet
Clear orthodontic trays like Invisalign are practically invisible over your teeth. Whether you're having a casual conversation or smiling in a photo with close friends, other people won't even notice that they're there. Every aligner is crystal clear.
Invisalign Systems are Comfortable to Wear
Clear aligners are less bulky than traditional braces and they don't use wires or brackets, so they won't rub your lips or cheeks. Each smooth aligner is custom-fitted to your unique bite. Since you change them out every two weeks, tooth movement is gentle and systematic. The process tends to be much more comfortable than with conventional orthodontia.
Home Care and Oral Hygiene is a Breeze
As dental professionals, we understand just how important good oral hygiene is to maintain a healthy smile. When it comes to clear aligners, home care and oral hygiene are a breeze. Cleaning your teeth is easy when you wear Invisalign because everything is removable. Simply take your trays out to brush and floss, brush the inside of your trays, and then go on with your day!
There's No Need to Change Your Diet
Unlike traditional braces, you can eat whatever you want with Invisalign. There are no dietary restrictions because you remove your aligners every time you sit down for a meal. Nothing is off-limits.
Reserve a Consultation in Marietta
Is Invisalign right for you? Call William R. Kincer – Orthodontist today for an appointment.